Jere and I have been in Rome for the past two nights. We're staying again tonight and probably tommorow night.
June 12th: We rode the train for about three hours. We arrived at
Countryclub Castelfusano
. We set up our tent, and just relaxed. I used the internet while Jere watched a soccer game.
June 13th: We went into Rome. We got to Rome's main station and decided to look for a camera shop thinking that we might buy one. We did. We bought an Olympus digital camera. We were pretty excited about it and have taken a few pictures :) After buying the camera, we went to the Vatican. A young guy named "Mike from Ohio" stopped us and asked if we wanted to join a tour of the Vatican museums and Sistine Chapel. After trying to figure out if he was super shady or legit, we joined the tour. I'm glad we did because we got a lot of information than if we had just walked through on our own. I love getting the information. After visiting the museum and Sistine chapel, we went into St. Peter's Basilica. I am so glad I was able to see it with my own eyes instead of viewing it out of a picture! The enormity of the structure is awesome. It is the biggest church in the world.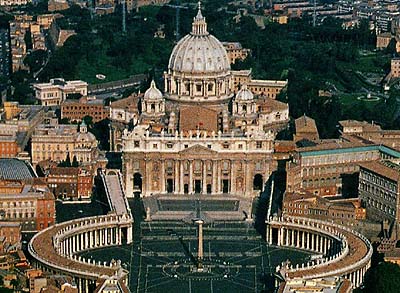 Before going into the museum, we had to pass through security and Jere realized that he had his pocket knife with him. He found a security guard and they checked it for him. When we were done with seeing everything, the area where he checked his knife had closed so they sent us back into the Vatican grounds! We had to walk to the Vatican police which is behind the basilica. It was just a cool thing to think that not many people do that! After leaving the Vatican, we ate at a little restaurant by the main train station. We had pizza for cheap and went home. After arriving back at camp, we met up with some people we had met on the first night. We hung out with them in the "Chill Out Area" of the camping till around 1am and then left their bungalow at 2am! It was a late night last night.
June14th: Today, we started at the Piazza Navona. (the first picture)
We walked to the Pantheon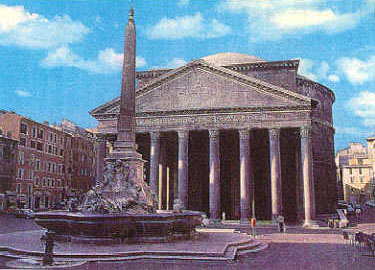 And then to the Trevi Fountain.
Afterwards, we walked a little bit to the Spanish steps.
And finally we went to the Colosseum, Roman Forum and Palatine Hill.
We've been staying in our tent and it's been good. The charge per night is 20 Euro's, so total we have spent 60 Euro's for three nights so far! That is the same amount we spent for the cheapest hotel room on this trip.
Tomorrow our plan is to spend the day on the beach, do laundry and just veg!

Photos courtesy of Google search.